Centre to focus on application engineering, product development and manufacturing technology in the automobile and industrial space
Enables NBC Bearings in India with competitive advantage through a wider network and advanced technical knowledge
Jaipur, 22nd September 2022:
National Engineering Industries Ltd. (NEI) – part of the US$ 2.4 billion CK Birla Group and manufacturer of NBC brand of bearings, India's leading bearings manufacturer and exporter, today announced the launch of its Global Technology Center (GTC) in Würzburg (Wuerzburg), Bavaria (Germany) through its subsidiary NBC Global.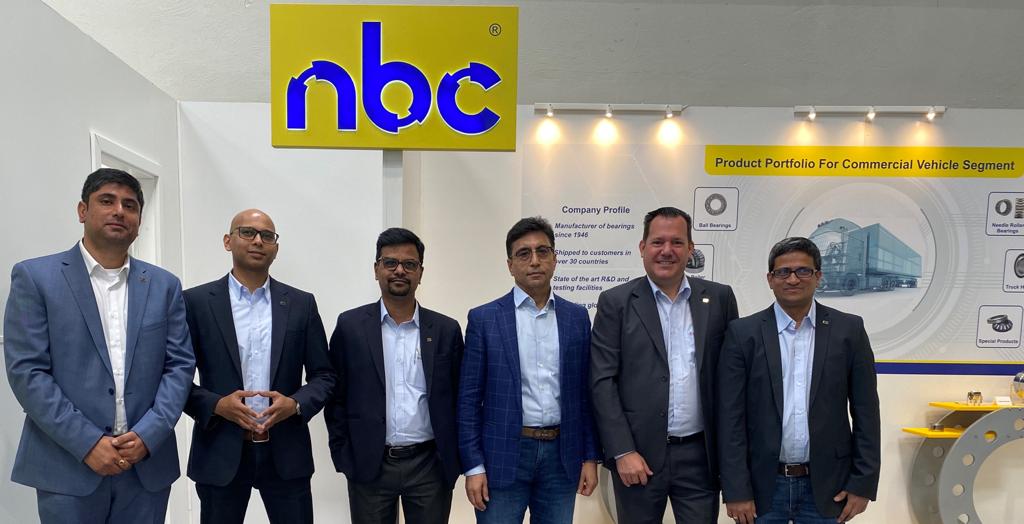 The technology center will focus on application engineering, product development and manufacturing technology in the automobile and industrial space. It will support the company's global and Europe-based OEM customers as well as act as an extended arm for NBC Bearings in India by driving innovation, speed in implementation of new ideas, response to customer requirements and addressing market requirements. The GTC was launched on the sidelines of IAA Transportation 2022 currently underway at Hanover, Germany.
A competence center approach at the GTC will have dedicated teams work on relevant customer application in e-Motors & eMobility bearings, wheel-end bearings, drivetrain bearings and manufacturing process development.
"It is a moment of great pride as we start our very first Global Technology Center to focus on customer-centered bearings, an integral component to every kind of machinery," said
Rohit Saboo, President & CEO, National Engineering Industries Ltd.
"To have this centre located in Germany, world's automotive hub of innovation, gives NBC Bearings a strategic advantage of collaborating directly with our global customers which are some of the leading automotive makers offering products tailored to their needs, accelerating response and go to market time," he added.
Dr. Lokesh Agrawal, Vice President and Head of R&D, National Engineering Industries Ltd.
said, "This is an important milestone for NBC as we continue our journey to be a global player. We have put together a team of very talented and accomplished engineers who will be innovating the future products in the automotive and industrial space."
Andreas Knopf, Head of Global Technology Centre, NBC Global (Germany) GmbH
said, "This centre will provide a strong impetus for growth to NBC, both from customer proximity and technology perspective. We will be partnering with customers to develop products for higher speed, durability and for longer service life."
To capitalize on the synergies, GTC will also work in close cooperation with NBC Global's entity in Slovakia, Kinex bearings (a major global supplier of standard and special rolling bearings for various industrial and railways applications with reach to more than 80 countries).
About NBC Global Ag
NBC Global is a wholly-owned subsidiary of National Engineering Industries Ltd. NBC Global has teams comprising of bearing solutions, customer support, business development, engineering and supply chain resources across Europe and USA.
About National Engineering Industries Ltd (NBC Bearings)
Founded in 1946, National Engineering Industries Ltd (NEI), is a part of the US$ 2.4 bn CK Birla group and manufacturer of NBC brand of bearings. Enabling sustainability by making movement more efficient, NEI is India's largest manufacturer and exporter of bearings with production of 200 Mn bearings annually in over 2300+ variants for application across automotive, railways, aerospace and industrial segments to serve customers in more than 30 countries. It also serves the Indian aftermarket through a countrywide network of over 550 authorized stockists and thousands of retailers.
Headquartered in Jaipur, India NEI is the only bearings manufacturer in the world to win the prestigious Deming Grand Prize (2015). With an employee strength of over 2,800 and five manufacturing plants in Jaipur (2), Newai (Rajasthan), Manesar (Haryana) and Vadodara (Gujarat), NEI is equipped with global manufacturing and process technology and has one of the best R&D centres in India. Apart from being technologically advanced, the company practices methods of sustainability by using alternate sources of energy and increasing the efficiency of the manufacturing process by leveraging on the power of digitisation. NBC Bearings is committed to be carbon neutral by 2039.
In 2020, National Engineering Industries Ltd, acquired Kinex bearings in Europe through it's subsidiary NBC Global Ag, to enhance, diversify and provide best-in-class products to its existing and potential customers. In 2022, NBC Global Ag opened it's Global Technology Centre in Germany to support innovation and provide support to NEI's global growth. For details, visit:
https://nbcbearings.com/