About us
Awards And Recognitions
NBC Bearings extensively embarked upon system improvement and implemented modern concepts of Total Quality Management. NBC Bearings has been awarded ISO 9001 certification in 1995 & QS-9000 certification in year 2000 – THE MARK OF EXCELLENCE IN QUALITY MANAGEMENT SYSTEMS by the renowned Certification Agency M/s Bureau Veritas (BV) of the France for design, development, manufacture & supply of NBC Bearing's complete range of products. 
NBC Bearings was awarded ISO 14001 by BV in the month of Mar'2000 for Environmental Management System, NBC Bearings was awarded ISO/TS 16949 in the month of Jan'2004 by BV for Quality Management System. NBC Bearings is the first bearing industry in India to have been recommended for ISO/TS16949. NBC Bearings has been awarded "AAR Certification M – 1003" by Association of American Railroads (AAR) for Cartridge Tapered Roller Bearings of Railway Division in Feb 2005. 
NBC Bearings was awarded BS-OHSAS 18001 (Occupational health and safety assessment series) in the month of March 2014 by TUV- SUD. NBC Bearings has been awarded 'IRIS' certification by certification body M/s Bureau Veritas for Railway Bearing Division in February'2015.
NBC Bearings wins The Deming Grand Prize -2015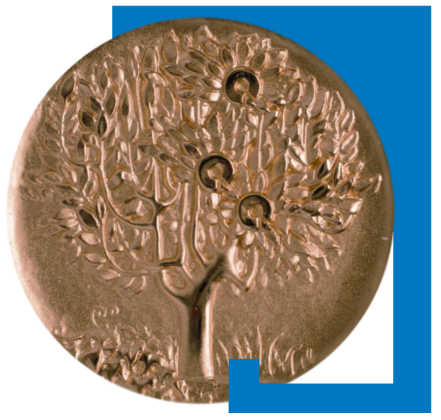 Deming Grand Prize is a management tool for continued and focused implementation of TQM after an organization has won the Deming Application Prize. This Prize is aimed on ensuring that a growing organization continues to meet the rapidly changing needs of the customers. After winning the Deming prize an organization should not become complacent, and sluggish. Challenging the Deming Grand Prize and winning this highest category quality award is an assurance that we are on the right path and we are committed to fulfilling the expectation of our customers , stake holders and employees. National engineering Industries is the Eighth Industry from India to have won this award which was formerly Known as Japan Quality Medal. NBC Bearings is the First Bearing manufacturing Industry across the Globe to have bagged this quality accreditation in Nov-2015.
Million bearings Produced Per Annum
Countries
With Happy Customers
ACMA Awards Technology Excellence
NBC Bearings is bestowed with the prestigious ACMA Awards 2015 for recognizing Technology Excellence (Large) for company's Research and Development effort and progress. The award for excellence in Technology was awarded for the company's modern R&D infrastructure with state of the art research facility and ultra-modern equipment required for research in the areas of Tribology, materials, validation and verifications of products. Our R&D facilities is well complemented with highly capable engineering human resources. Human resources are well blend of doctorate, masters and bachelorette for premier engineering institution like IITs. Company is also engaged with several research labs like IITs, ARCI etc. continuous research activities and to align products and technologies development with changing technology trends. Company is also having well defined APQP process and PLM tool for handling project end to end. R&D team is well trained in modern CAE tools Romax, Abaqus etc. for executing projects and ensuring customer satisfaction. Company also having non competing membership with University of Akron USA for tribology research.
Company has filed 21 patents for various innovations and technological research. ACMA award in technology category specifically evaluates company's technology development process, continuous improvements, motivations for innovations and also collaborator involvements. The ACMA award audit process also require accountability of business impact because technology development / innovations. Emphasize on product cost and its importance during the product development make R&D team more focused on business aspects. Overall ACMA award process helps / benefits organization to consider R&D to integrate and achieve business objectives.
NBC Bearings received the Award for 'Excellence in Technology' during the 55th Annual Session and National Conference held in New Delhi on 3rd Sep '15. Our President and CEO Mr. Rohit Saboo and our VP-R&D Mr. Srini Dampur received the award.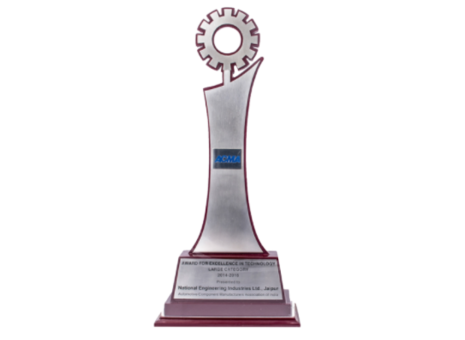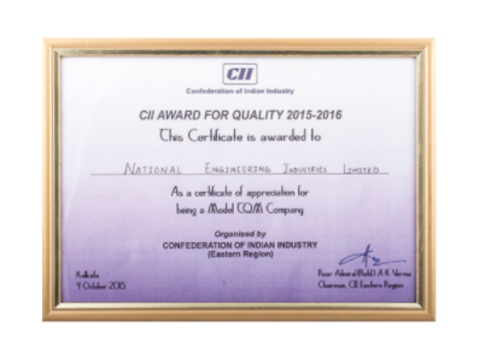 Confederation of Indian Industry – Eastern Region (CII-ER) has been honoring companies with Quality Awards since 1988. With the objective of bringing about an all-round quality improvement in Indian industry. The competition was modelled along with lines of well known Malcom Baldrige award.
The objectives of presenting these awards are two-fold :
1.Recognizing a CII (ER) member company, which can serve as a model to others in methods & systems, practiced in pursuing the concept of "Total Quality".
2.Encouraging competition amongst members for bringing about further improvements in these methods and systems for moving towards "Total Quality".
NBC Bearings has participated in the competition for "CII Rotating Shield to Large Scale companies for selection as a Model TQM company" and received "Best TQM Model company certificate". This award is given to industries who follow TQM practices and have participated and won the competition for this award.
NBC Bearings was given the certificate for best TQM model Company. The event was organized at Kolkatta on 9th Oct-2015.
Railway Bearing Division Awarded with IRIS Certification
NBC Bearings Railway Bearing Division has been awarded "IRIS" certification, which is another milestone in the journey of quality. NBC Bearings Railway Bearing Division went through an extensive audit conducted by M/s Bureau Veritas Certification for 11 man-days in the month of February'2015, successfully qualifying this audit for IRIS. NBC Bearings is the first bearing manufacturing company of India to be certified with "IRIS" (International Railway Industry Standard).
IRIS certification is an enabler for us to enter in EU (European) Market as it is the basic eligibility criterion for any EU Railway Industry Supplier. This recognition, of world-class quality management systems, opens up doors for business in the multi-million dollar EU market.
National Engineering Industries, Ltd., Jaipur (NEI), a leading manufacturer of NBC brand Bearings, have been awarded the coveted 2010 Deming Application Prize, an Annual award given to autonomously managed organizations or divisions of organizations that have achieved distinctive performance improvement through the application of TQM in a designated year, by the Union of Japanese Scientists and Engineers (JUSE), Japan.
NBC Bearings is the only Indian company among the 4 companies of the world to have been awarded in 2010, and the only company from India to win this award in the last two years. NBC Bearings is the 20th Indian company to have been honored with the prestigious Deming Application Prize. All the three plants of NBC Bearings situated at Jaipur, Newai & Manesar were found eligible for the Prize.
The examination for the Deming Prize includes company's viewpoint in respect of – Management Leadership, Vision and Strategies, TQM Frameworks, Quality Assurance systems, Management systems for New Product Development and Marketing, Human Resource Development, Effective utilization of Information Technology, Cost Management, TQM concepts and values, Scientific Methods etc.
NBC Bearings Stands committed to an endless journey of continuous improvement through TQM.
NBC Bearings has been continuing its operations in accordance with the ISO 9001:2015 certification, that specifies requirements for a quality management system where an organization needs to demonstrate its ability to consistently provide product that meets customer and applicable statutory and regulatory requirements, and aims to enhance customer satisfaction through the effective application of the system, including processes for continual improvement of the system and the assurance of conformity to tomer and applicable statutory and regulatory requirements.
ISO 45001:2018 to help all kinds of organizations to put in place demonstrably sound occupational health and safety performance. It is intended to help organizations to control occupational health and safety risks. Every employee expects a safe and healthy working environment, and they perform better when their employer's care for their safety is reflected in well regulated conditions. Companies working with ISO 45001:2018; focus & improve their employees' working conditions, health and safety. Organizations worldwide recognize the need to control and improve health and safety performance and do so with occupational health and safety management systems. ISO 45001:2018 directs organization to control its occupational health and safety risks and to improve its performance by means of continuous improvement i.e. "Plan, Do, Check, Act" methodology.
NBC Bearings has established and applies an Environmental Management System in compliance with the ISO 14001:2015 certification, that specifies requirements for an environmental management system to enable an organization to develop and implement a policy and objectives which take into account legal requirements and other requirements to which the organization subscribes, and information about significant environmental aspects. It applies to those environmental aspects that the organization identifies as those which it can control and those which it can influence.
Association of American Railroads Quality Assurance Certification
NBC Bearings has been entitled to the certification under the Quality Assurance Program by Association of American Railroads as specified in M-1003. This certification confirms the trust NBC Bearings is bestowed upon with by the AAR and highlights NBC Bearing's participation in North American rail industry. It further confirms that the requirements of the Association of American Railroads have been met as specified in M-1003.
Bureau Veritas IATF 16949 Certification
NBC Bearing's consistent endeavour to maintain its world-class quality has been in compliance with the IATF 16949 Certification and applicable customer specific requirements. The IATF 16949 is an ISO technical specification aimed at the development of a quality management system that provides for continual improvement, emphasizing defect prevention and the reduction of variation and waste in the supply chain.
TPM Excellence Award 2008
TPM was introduced by JIPM in 1971 and is defined as 'the ultimate method of pursuing production efficiency'. It is intended to encompass the entire company from the shopfloor to the executive boardroom, creating a true company wide commitment to production excellence, and is designed to avoid any losses by creating a culture of 'zero accidents, zero defects and zero breakdowns'. National Engineering Industries , Jaipur & Newai plants received the award for TPM excellence 1st Category by JIPM-Japan. In 2008 and 2007 respectively.
Latest Articles Updated Daily
Follow our latest news and thoughts which focuses exclusively on insight, industry trends, tip news headlines.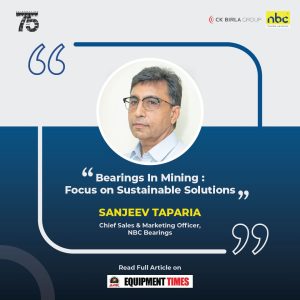 Media Coverage
Mr. Sanjeev Taparia, Chief Sales & Marketing Officer, NBC Bearings share his valuable insights on showcasing a comprehensive range of products tailored to meet the
Read More
Discovering unique solutions to reimagine and reinvent technology from a futuristic perspective is part of NEI's best practices. Taking pride in unleashing the potential of innovative minds through informal education, we encourage our employees to share their exclusive ideas on our Idea portal, and we host the 'Idea Factory' contest for budding engineers currently studying in different universities—fostering independence of thought.
In the rapidly evolving business scenario, it is important to understand that everything would evolve but the only constant for any business would be its people. So it is important that people keep up with the times and evolve with changing dynamics. People are the biggest differentiators and the most important asset for any organisation; a strategy is successful if we have the right people with us who adapt to the ever-changing scenarios. This thought is well reflected through the efforts made by NEI towards it's people practices and culture.
Finance these days is not about record keeping, it is more about working alongside the business and drive strategy. The world is changing so rapidly and we are going through unprecedented situations. The key is to keep on top of it and learn. It is all about evolving, innovating and adapting to succeed in the business world. At NEI, we ensure that we listen to our stakeholders and adjust ourselves to meet the evolving needs.
As a leading exporter and manufacturer of bearings, with the objective of reducing energy consumption and improving energy efficiency to lower GHG emissions and Carbon Footprint, we take a leap forward in leveraging opportunities to expedite the transfer and diffusion of environment-friendly and clean-energy technology.
We are committed to grow our customer base across the 5 continents we currently serve. With our subsidiary Kinex in Europe, we are even closer to our international customers. Our major focus is towards investing in quality of products, people and technology. We have chalked out our growth plans and will keep working towards expanding our portfolio based on the evolving landscape of the industry and ofcourse, the needs of our customers.
The imprint of transformational leadership in our day-to-day operations in offering flexible solutions even amidst crisis stands out as one of NEI's core strengths. Putting employees first on our list of priorities and working in harmonious alliance adds to our spirit of maintaining a healthy and productive work environment. We rejoice at keeping up a vision that guides change through inspiration as we make our way through the extended new normal.
We are delving our feet into the aerospace and defence industries. We consider this as an excellent time to enter this segment, given the present focus is on 'Atmanirbhar Bharat' which will lead to lower import dependency for the companies in these segments. We have been engaged with a number of aerospace businesses and have learnt that there is a lot of room for a local player to proactively work with them from concept to production.
Our nation is at the cusp of greatness , If India plays it's cards well , then this decade and the next one could belong to our nation , NEI leadership is fully geared to perform it's role in this transformation .
The ability to execute in rapidly evolving environment is set to become a decisive competitive differentiator for sustaining the profitable growth. To drive significant improvement in financial and operational metrics and to bring step change in productivity, flexibility and speed, rapid digitization through automation, advanced analytics, and machine learning is needed. Besides this, setting up resilient, risk-tolerant supply-chain and procurement structures along with re-skilling human capital with the skills and mindset the digital world requires, is the key to success