Working At NBC
NBC Career
National Engineering Industries Ltd. (NEI) is a Great Place to Work certified company since 2018. It has also been ranked amongst top 100 employers in 2020 and in top 30 manufacturing companies in India by the Great Place to Work institute for its people practices.
If you want to be part of our dynamic team, send your CV to myopportunities@nbcbearings.in
'Our people are our greatest asset' is at the heart of our ethos and human resource policies. The HR practices at NBC Bearings follow the core philosophy of creating a high performance culture with ample growth opportunities for self-development. The open yet challenging environment help our people realize their potential to excel in every sphere.
A career at NBC Bearings is more than a job. NBC Bearings is a recognized leader in bearing manufacturing and is a great place to develop professionally and make a difference.
Talent is our elementary asset that determines success. Without extraordinary talent, a business can't create iconic products and deliver great customer service. We look for a candidate who is right mix of competencies and attitude to remain competitive all the time. NBC Bearings gains a competitive talent advantage through proactive talent acquisition capabilities. We hire fresh talent from the premier institutes of India through campus recruitment drives and thorough professional experienced personnel with right skills set as lateral hires.
Our goal is to create a high-performance and sustainable organization that meets NBC Bearing's strategic and operational goals and objectives. Through talent management, NBC Bearing's provides a set of strong HR processes designed to attract, develop, motivate, and retain productive & engaged employees.
a) On-boarding – NBC Bearings has a strong process of acclimatizing new hires to ensure that they feel welcomed and valued by the organization. On boarding goes beyond traditional "orientation" programs which not only focuses mainly on managing policies, forms, and procedures but it is a stretched 90 days program comprising of Classroom Trainings, live Projects and Shop floor experience.
b) Learning & Development – In our culture, we highly value learning. Innovative and high-quality training programs are delivered to our employees on regular basis. All technical and behavioral training needs for a financial year are captured followed by annual Training Calendar. Each training program is supported with Pre and Post assessments to bring in the effectiveness.
c) Leadership development – Various activities like CEO circle, Chairman Circle, Young Leadership Program etc are run under this vertical linked to individual goal attainment, career planning, and possible succession planning.
PMS at NBC Bearings is an ongoing, continuous process of communicating and clarifying job responsibilities, priorities, performance expectations, and development planning. Our robust and objective on line Performance Management System optimizes individual performance aligned with organizational strategic goals. Each employee is expected to engage in clear and candid dialogue throughout the year with Performance Planning, Quarterly, Half Yearly and Annual performance conversations. These meaningful, ongoing conversations ultimately result in clarity of expectations, alignment across the organization and an appreciation of employee contributions.
NBC Bearings ensures that our people are committed to organization's goals and values, stay motivated to contribute to organizational success, and at the same time are able to enhance their own sense of well-being. Through our Employee Reward & Recognition policy, we try to permeate a sense of belongingness in our people through various methods of acknowledging, honouring, encouraging, and supporting individuals and teams who contribute. Recognizing the accomplishments of employees helps to create a supportive work environment along with high performance culture.
With the support of all these activities, NBC Bearings takes systematic efforts focused not only on retaining talented performers but also to create and foster a welcoming work environment and high-retention culture. This helps us in making an organization that operates more effectively and efficiently, while becoming a great place to work. We proudly announce that NBC Bearings holds 94% retention rate of our people.
Apart from the various accolades, what makes us proud is the recognition of the great contributions NBCites make to the professional world.
The various programs and events at NBC Bearings reflect back our core values, feeling of oneness and team spirit. So what truly makes NBC Bearings a great place to work; its our people.
Join us today and get connected to a world of opportunities!!
Latest Articles Updated Daily
Follow our latest news and thoughts which focuses exclusively on insight, industry trends, tip news headlines.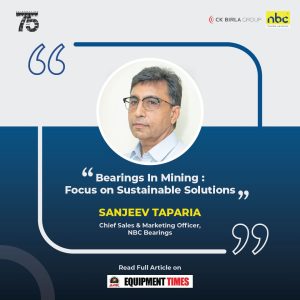 Media Coverage
Mr. Sanjeev Taparia, Chief Sales & Marketing Officer, NBC Bearings share his valuable insights on showcasing a comprehensive range of products tailored to meet the
Read More
Discovering unique solutions to reimagine and reinvent technology from a futuristic perspective is part of NEI's best practices. Taking pride in unleashing the potential of innovative minds through informal education, we encourage our employees to share their exclusive ideas on our Idea portal, and we host the 'Idea Factory' contest for budding engineers currently studying in different universities—fostering independence of thought.
In the rapidly evolving business scenario, it is important to understand that everything would evolve but the only constant for any business would be its people. So it is important that people keep up with the times and evolve with changing dynamics. People are the biggest differentiators and the most important asset for any organisation; a strategy is successful if we have the right people with us who adapt to the ever-changing scenarios. This thought is well reflected through the efforts made by NEI towards it's people practices and culture.
Finance these days is not about record keeping, it is more about working alongside the business and drive strategy. The world is changing so rapidly and we are going through unprecedented situations. The key is to keep on top of it and learn. It is all about evolving, innovating and adapting to succeed in the business world. At NEI, we ensure that we listen to our stakeholders and adjust ourselves to meet the evolving needs.
As a leading exporter and manufacturer of bearings, with the objective of reducing energy consumption and improving energy efficiency to lower GHG emissions and Carbon Footprint, we take a leap forward in leveraging opportunities to expedite the transfer and diffusion of environment-friendly and clean-energy technology.
We are committed to grow our customer base across the 5 continents we currently serve. With our subsidiary Kinex in Europe, we are even closer to our international customers. Our major focus is towards investing in quality of products, people and technology. We have chalked out our growth plans and will keep working towards expanding our portfolio based on the evolving landscape of the industry and ofcourse, the needs of our customers.
The imprint of transformational leadership in our day-to-day operations in offering flexible solutions even amidst crisis stands out as one of NEI's core strengths. Putting employees first on our list of priorities and working in harmonious alliance adds to our spirit of maintaining a healthy and productive work environment. We rejoice at keeping up a vision that guides change through inspiration as we make our way through the extended new normal.
We are delving our feet into the aerospace and defence industries. We consider this as an excellent time to enter this segment, given the present focus is on 'Atmanirbhar Bharat' which will lead to lower import dependency for the companies in these segments. We have been engaged with a number of aerospace businesses and have learnt that there is a lot of room for a local player to proactively work with them from concept to production.
Our nation is at the cusp of greatness , If India plays it's cards well , then this decade and the next one could belong to our nation , NEI leadership is fully geared to perform it's role in this transformation .
The ability to execute in rapidly evolving environment is set to become a decisive competitive differentiator for sustaining the profitable growth. To drive significant improvement in financial and operational metrics and to bring step change in productivity, flexibility and speed, rapid digitization through automation, advanced analytics, and machine learning is needed. Besides this, setting up resilient, risk-tolerant supply-chain and procurement structures along with re-skilling human capital with the skills and mindset the digital world requires, is the key to success