Industrial
Bearing Solutions For The Ceramic Industry
The machinery and equipment used in the ceramic tile industry have evolved with time, requiring high-performance bearings that can cope with the challenges present inside the plant. Therefore, NBC Bearings offers sustainable and comprehensive bearing solutions that can sustain harsh operating conditions. 
Here are some reasons why bearings offered by us are the best solutions fitting for long term use in the ceramics industry: 
An extensive range of products suitable for demanding environments. 

Longevity of service life as it can withstand humidity, dust and high-speed application.

Special products are made of advanced materials, special seals, and lubricants.

Condition monitoring service to prevent any unplanned stoppage 

Low maintenance and maximized uptime makes it economical and reliable.


The ceramic industry also has a lot of underlying operating challenges which pose a roadblock in smooth processing of the manufacturing process. The most significant challenges are:
Low speed due to various reasons
Contamination that can lead to major downtime
Vibration that is directly related to increased friction
Heavy loads which need careful monitoring and maintenance.
For smooth functioning of bearings particularly in the ceramic tiles industry, units must utilize bearings which fulfill the following requirements:
Optimized internal geometry for lowered friction and improved precision
Seal design to prevent environmental contaminants
Special heat treatment to prevent overheating and eliminating downtime to great extent
High-load carrying capacity for proper flow
High-operational reliability which means low on maintenance

Ceramic Bearing Styles and Sizes
Surface hardened and lightweight cage design
Suitable for high-speed applications
Gives adequate performance for majority of applications
Brass cage bearings can deliver extra durability in extreme operating conditions
Better performance in shock load applications
Suitable for high centrifugal loading
Better performance in reversing application
Features & benefits
Two-piece cage design:  This allows both rows to run independently, avoiding the risk of roller slippage, smearing and cage damage.
Enhanced roller finishing to reduce friction: Enhanced race/roller surface finish results in improved lubrication film, which avoids metal-to-metal contact and lowers bearing operating temperature.
Improved and robust cage design: Helps in better roller cage interaction and can accommodate more rollers and longer cage life by providing surface treatment.
Central Guide Ring/Flange: The central guide ring/flange provides optimal guidance to the rollers and limits rollers skew thus, avoids unnecessary force on the cage.
Maximum and Larger Rollers: This enhances load carrying capacity.
Size range: 30-2000 mm OD
Variants: Straight bore, Tapered bore (1:12, 1:30)
Cage: Brass, Steel
Clearances: C2, CN, C3, C4, C5
HCR Wear Resistant Bearings
Wear resistance coating on rolling elements helps avoid metal to metal contact in low film thickness and protects against adhesive and abrasive wear.
Features & Benefits
Optimized coating with metal-containing amorphous carbon with a multilamellar structure
No columnar structure provides high adhesion strength
High dimensional accuracies
Low coefficient of friction even in dry condition: Resistant to adhesive wear and micro pitting
Enhanced fatigue life in insufficient lubrication condition
Debris tolerance: removes dents created in the contaminated application
Features & Benefits
Oil impregnated bearings composed of 70-80% of lubricating synthetic oil. Oil is moulded and solidified with polymer to form a casing which acts as a lubricant reservoir throughout the bearing's life.
Improved lubrication with consistent lubricant supply
Superior lubricant: Synthetic oil
Excellent performance in water and dusty environment
Environment-friendly molding process
Long life and maintenance-free 
Higher operational reliability
No re-lubrication needed
No lubricant washout issue
Sealed Spherical Roller Bearings
Features & Benefits
Sealed Spherical Roller bearings are like conventional spherical roller bearing in design and features, however for extra protection of bearing and lubricant from any external agents it has contact seals in the recesses of the outer ring.
Effective and high-performance contact seals
Different seal materials to suit different operating temperatures
Reduced lubricant consumption
Lower operating and maintenance costs 
Excellent protection against water splashes and contamination
Electrical insulation coating prevents electrical pitting in the bearings and improves bearing life in motor application.
Features
Aluminium oxide coating using plasma spraying technology 

Current insulation

High thermal stability 
Benefits
Extending bearing service life by avoiding damage caused by electric current flow.

Higher operational reliability of electrical machinery
High Temperature Bearings
NBC has developed unique heat treatment solutions for high temperature applications to provide superior dimensional stability for operating temperatures as high as 250°C.
Features
Special heat treatment
Excellent performance under hot environments
Benefits
Dimensional stability at high temperatures.
Enhanced bearing service life at elevated temperatures
Hybrid Ball Bearings t Here
Hybrid bearing also known as anti-friction ball bearing consists of a rolling element made of Silicon nitride in place of steel. Silicon nitride rolling elements perform exceptionally well in high-speed operating conditions.
Features
Lower friction
Reduced weight
Current insulation
Higher hardness
Benefits
High speed capability
Less wear under slippage
Extended bearing service life
Higher operational reliability
Download Cement Catalogue
Our Offerings
NBC manufactures over 200 million bearings each year offered in 2300+ variants to serve the customers in Automotive, Railway, Aerospace and Industrial segments. Product range includes ball bearings, taper roller bearings, cylindrical bearings, spherical roller bearings, needle roller bearings, railway axle boxes and other special products.
Latest Articles Updated Daily
Insight And Trends
Follow our latest news and thoughts which focuses exclusively on insight, industry trends, tip news headlines.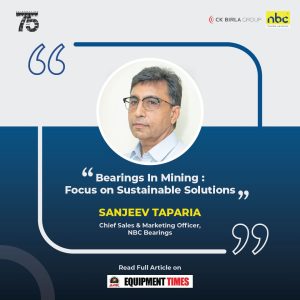 Media Coverage
Mr. Sanjeev Taparia, Chief Sales & Marketing Officer, NBC Bearings share his valuable insights on showcasing a comprehensive range of products tailored to meet the
Read More
Discovering unique solutions to reimagine and reinvent technology from a futuristic perspective is part of NEI's best practices. Taking pride in unleashing the potential of innovative minds through informal education, we encourage our employees to share their exclusive ideas on our Idea portal, and we host the 'Idea Factory' contest for budding engineers currently studying in different universities—fostering independence of thought.
In the rapidly evolving business scenario, it is important to understand that everything would evolve but the only constant for any business would be its people. So it is important that people keep up with the times and evolve with changing dynamics. People are the biggest differentiators and the most important asset for any organisation; a strategy is successful if we have the right people with us who adapt to the ever-changing scenarios. This thought is well reflected through the efforts made by NEI towards it's people practices and culture.
Finance these days is not about record keeping, it is more about working alongside the business and drive strategy. The world is changing so rapidly and we are going through unprecedented situations. The key is to keep on top of it and learn. It is all about evolving, innovating and adapting to succeed in the business world. At NEI, we ensure that we listen to our stakeholders and adjust ourselves to meet the evolving needs.
As a leading exporter and manufacturer of bearings, with the objective of reducing energy consumption and improving energy efficiency to lower GHG emissions and Carbon Footprint, we take a leap forward in leveraging opportunities to expedite the transfer and diffusion of environment-friendly and clean-energy technology.
We are committed to grow our customer base across the 5 continents we currently serve. With our subsidiary Kinex in Europe, we are even closer to our international customers. Our major focus is towards investing in quality of products, people and technology. We have chalked out our growth plans and will keep working towards expanding our portfolio based on the evolving landscape of the industry and ofcourse, the needs of our customers.
The imprint of transformational leadership in our day-to-day operations in offering flexible solutions even amidst crisis stands out as one of NEI's core strengths. Putting employees first on our list of priorities and working in harmonious alliance adds to our spirit of maintaining a healthy and productive work environment. We rejoice at keeping up a vision that guides change through inspiration as we make our way through the extended new normal.
We are delving our feet into the aerospace and defence industries. We consider this as an excellent time to enter this segment, given the present focus is on 'Atmanirbhar Bharat' which will lead to lower import dependency for the companies in these segments. We have been engaged with a number of aerospace businesses and have learnt that there is a lot of room for a local player to proactively work with them from concept to production.
Our nation is at the cusp of greatness , If India plays it's cards well , then this decade and the next one could belong to our nation , NEI leadership is fully geared to perform it's role in this transformation .
The ability to execute in rapidly evolving environment is set to become a decisive competitive differentiator for sustaining the profitable growth. To drive significant improvement in financial and operational metrics and to bring step change in productivity, flexibility and speed, rapid digitization through automation, advanced analytics, and machine learning is needed. Besides this, setting up resilient, risk-tolerant supply-chain and procurement structures along with re-skilling human capital with the skills and mindset the digital world requires, is the key to success